CanMEDS Health Advocate Competencies
Listed below are the Key Competencies for both the Royal College and College of Family Physicians.  As seen in other modules, the Key Competencies are similar.  The Enabling Competencies can be found below in the "Related Topics" section below. The Enabling Competencies outline the expectations of this Role in greater detail. 
CanMEDS and CanMEDS-FM Key Competencies
Physicians are able to...
1. Respond to individual patient health needs and issues as part of patient care;
2. Respond to the health needs of the communities that they serve;
3. Identify the determinants of health of the populations that they serve;
4. Promote the health of individual patients, communities and populations.
Might we see that there are three realms or spheres in which advocacy takes place: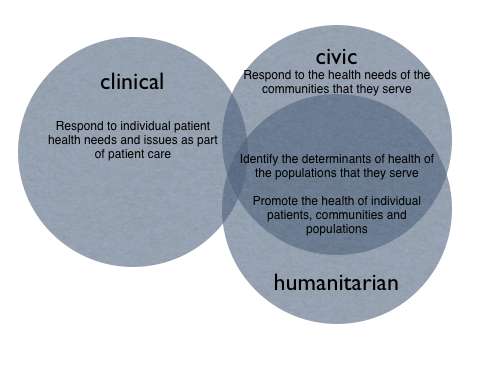 the immediate clinical environment, the work we do on a day to day basis with individual patients

our local community, the civic realm in which we are citizens as well as practitioners

and the final realm is a humanitarian realm, the way in which we as individuals and as physicians are concerned with the welfare of others and the ways in which we seek to promote human welfare.  The word humanitarian might evoke images of volunteer work in an underserviced area of the world, or situations where care is provided on a back drop of violence or environmental devastation; do not let this limit your understanding of what it means to be concerned about human welfare.

 
In the civic realm we are concerned with the needs of communities and the determinants of health of populations we know and of which we are likely to be a constituent.  In the humanitarian realm we turn our attention to the needs of individuals, communities and larger populations that we may or may not know closely or be a member.
With each of these spheres, the focus of our attention increases in size and complexity and moves from local to distant.  The amount of effort and the value of the work of advocacy, however, is unrelated to the sphere in which it is undertaken. There is no value gradient for advocacy work.  The skills are transferable between situations and the intent is the same - to lend our skills and whatever influence we may have to the benefit of others.