Disclosure of Adverse Events
Adverse events can occur in medicine.  The health care environment is a complex system with multiple factors that can be difficult to control.  Patient safety research shows that adverse events are often system failures, where safeguards may not be adequately in place to protect patients.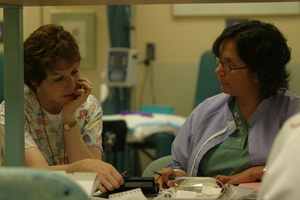 T. Walton, 2005
Disclosure of an adverse events can be difficult for a physician.  The Canadian Medical Protective Association (CPMA) has a lot of information covering the topic of disclosure of adverse events.  The CMPA has stated that "When an adverse event occurs, after the patient's immediate clinical needs are met, health care providers must fulfill their ethical and legal obligations to disclose the facts of the adverse event to the patient." [2]
One can be concerned that disclosure implies taking blame and admitting responsibility for the adverse event.  The CMPA believes that expressions of regret "I'm sorry this has happened" are appreciated by all patients.  Recent Apology legislation has been enacted in three provinces (British Columbia, Saskatchewan, Manitoba) whereby it is legislated that an apology does not constitute an admission of fault or liability[2].  An apology is defined as a "genuine expression of sympathy or regret, a statement that one is sorry for what has happened."  This apology legislation is being recommended by the Canadian Patient Safety Institute for all provinces to enact.
If one has been personally responsible for an adverse event  and wishes to express that to the patient, it is wise to contact the CMPA prior to doing do.  The CMPA is able to give advice regarding these more complex issues. They may also be able to help you process the adverse event and help ascertain responsibilities. As a learner, one can feel personally responsible for a bad outcome and forget that the attending physician has a role as well.
Many of the communication principles reviewed above for breaking bad news can be used to disclose an adverse event.  Many patients will also appreciate a level of problem-solving to help avoid the adverse event for others.   In fact, it can be quite empowering for a patient to be asked to help figure out how the health care system can be "fixed" in order to ensure the same mistake is not made again.   In addition, all health care providers need to be aware of "near misses" and "close calls" as these events can help one develop systems to put in place in order to avoid adverse events.  Creating a "safety culture" where mistakes and near misses are discussed and solutions found to improve patient care is very important.  Solutions such as the "double check" system for administration of chemotherapy or the use of "TALL MAN" letters for medications have been shown to prevent mistakes.  In the complex, ever-changing health care environment, we all need to be actively participating in improving systems to promote patient safety.  This benefits everyone in the end.
_________________________________
2. CMPA September 2008: Information Sheet: Apology Legislation in Canada: What it means to you"