Collaborator
Objectives
After completing this module you will be able to:
outline and define the CanMEDS Role of Collaborator

describe the importance of teamwork and team dynamics

explain some of the factors that contribute to conflict and some approaches to conflict resolution and prevention

describe the importance of self-care for effective collaboration

describe current initiatives in interprofessional health care 

list the elements of an effective collaborative environment
Collaborator
As Collaborators, physicians work effectively within a health care team to achieve optimal patient care.  The health care environment has changed to include multiple health care providers for a single patient.   The hierarchy in the health care environment still grants  physicians a high level of responsibility and privilege.  Recognizing this privilege and the power that comes with it is an important part of learning to work in a team. Mutual respect and learning from one another are hallmarks of effective interprofessional teams.
The current environment respects that professionals, including physicians, have focused areas of knowledge and expertise but demands that we work together to enhance patient care. 
Health care teams:
include patients and their families

function in the community, on inpatient wards, outpatient clinics and in chronic care facilities
Physicians must be able to collaborate with the patient and her or his social networks in order to maximize wellbeing and heath outcomes.
We also need to understand the skills and scopes of practice of other health professionals so that we can truly work together.
Working as a part of  a team demands that we recognize our own expertise and limitations. When confronted with a patient, or situation, at the limits of our expertise, or comfort, we must recognize this and and act responsibly by ensuring that care is provided by someone with the necessary skills and expertise. The CanMEDS Roles of collaborator, advocate, manager and professional can all be demonstrated in this situation.
CanMEDS Collaborator Competencies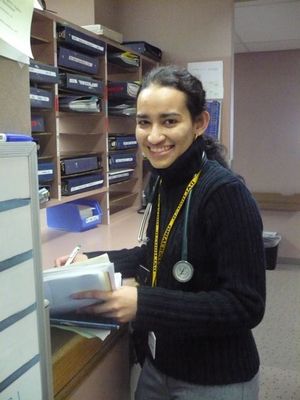 The Royal College of Physicians and Surgeons of Canada's (RCPSC)  CanMEDS Key Competencies for this Role are listed below.  The CanMEDS-FM Key Competencies are also listed.  Looking at the Enabling Competencies will give you a better understanding of how the Colleges defines this Role.  The Enabling Competencies for this Role can be found at the Related Topic  which is at the bottom of all the pages in this module.  This may also be helpful for examination or evaluation purposes.
CanMEDS Collaborator Key Competencies:
Physicians are able to...
1.  Participate effectively and appropriately in an interprofessional health care team;
2.  Effectively work with other health professionals to prevent, negotiate, and resolve interprofessional conflict.
CanMEDS-FM Collaborator Key Competencies:
Physicians are able to:
1. Participate in a collaborative team-based model and with consulting health professionals in the care of patients
2. Maintain a positive working environment with consulting health professionals, health care team members, and community agencies
3. Engage patients or specific groups of patients and their families as active participants in their care
What does collaboration mean to you?