Meetings and Feedback
Elements that improve Team Function
Teams function best when there time is used effectively.  All of us will be part of various health care teams and it is important to gain some skill in running an effective meeting.  This is a leadership skill that is not usually formally taught but is immensely useful and effective.  
Meetings
When working in a team it is necessary to have meetings. Whether these are  formal or informal it is important to have an agreed upon structure. Much has been written about meetings and how chair them and make them more effective, some of the issues are specific to health care [1]. Some examples of basic strategies and structures for meetings include:
Have an agenda

- can be circulated in advance or agreed upon at the beginning of the meeting

- to outline what work needs to be done and the approximate time being devoted to each item
Appoint a chairperson

- one person to direct the conversation

- ensure that everyone gets to speak

- summarize and clarify discussion

- direct the group to decisions or completion of tasks as required

- can be a shared or rotated responsibility
Bring the meeting to a clear conclusion

- includes a reminder of tasks for team members, information about minutes

- set date, time and location of next meeting

- take time for feedback about how the meeting went and whether changes need to be made to help the team function more effectively. This feedback at the end of the meeting is easy to skip, but is very important to keep a group on track and ensure that the team is meeting the needs of all participants.
Establish a communication structure

- a way of letting people know about future meetings, and about the results of a meeting (in the case of absences) and also as a record and reminder
Feedback
It is important for people to be able to express opinions and make constructive comments.  There are a few ways of doing this that can keep things from getting uncomfortable or destructive.   These tips for feedback are also helpful for feedback to other learners and members of the health care team. As residents, you will gradually take on the role of educator. In this capacity you will be expected to provide feedback and evaluation to the junior members of the team.
 When giving feedback, try to be:
constructive

specific

positive
 

 

 

 Less effective

 More effective feedback

 Constructive

"you don't know what you are talking about"

"perhaps next time it would be helpful if you were able to read the documents we are discussion before coming to the meeting"

 Specific

 "it was good"

 

 

" I really liked the way you gave everyone in the team an opportunity to speak once before people got to speak a second time, it gave me the encouragement I needed to speak"

 

 

 Positive

 "you talk too much"

"it is clear that you have a great deal of enthusiasm and knowledge that you would like to share with the team, is there a way that you can write some of it down to circulate to the team before the next meeting and then others can talk about some of your ideas?"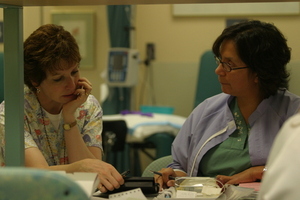 T. Walton, 2005
The sandwich technique of giving feedback is useful as well.   Although simplistic, it is a  easy to remember and implement. When providing criticism, "sandwich" the critique with helpful or positive comments.  For example,  "Your ideas on how to improve the medication tracking issue are helpful.  Perhaps rather than voicing your concerns so aggressively in the nursing station we can work together to make a formal suggestion." 
Here again, role models are important people to observe when they are leading meetings or providing feedback.  During your training, observe the methods that your role models use in leadership or meeting situations. 
_________________________________
1. O'Dea NA, de Chazal P, Saltman DC, Kidd MR.Running effective meetings: a primer for doctors. Postgrad Med J.2006; 82: 454-461.