Interprofessional Education (IPE)
"In view of ...changing trends corresponding changes must be made in the way health care providers are educated and trained.  If health care providers are expected to work together and share expertise in a team environment, it makes sense that their education and training should prepare them for this type of working arrangement." [3]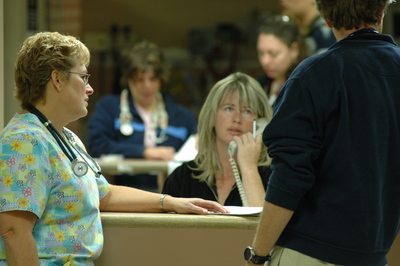 Karen Kirk, 2005
The World Health Organization's position on interprofessional education reflects the importance of it's integration within our nation's curriculum:
"Interprofessional Education not only creates an opportunity to integrate knowledge, but also to create a new terrain of knowledge"[2]
The importance of interprofessional health care has recently been recognized by major funding bodies and academic institutions.  A recent Cochrane Library Review found that 4 of 6 studies show some improvement in patient outcomes with IPE initiatives [1]. 
Patients and families are struggling with increasingly challenging health problems, which often require assessment and management by multiple health professionals over long periods of time. To provide the best possible care, health professionals need to work together as a team. Interprofessional education provides medical, nursing and rehabilitation therapy students with opportunities to learn from, with and about other health professionals. IPE facilitates the development of knowledge and skills to enhance team function and support collaborative, patient-centred care.
There are many national initiatives to promote interprofessional education and to provide opportunties for health sciences students to learn together and to work together.  The education of health care providers should mirror what is expected in the work setting.
At Queens, the QUIPPED project - Queen's University Inter-Professional Patient Centered Education Direction- and more recently the OIPEP - Office of Inter-professional Education and Practice - have been created to support and promote interprofessional teaching, learning and practice.  The vision for these projects are as follows:
At Queen's University in the Faculty of Health Sciences, all health professional schools promote and support Interprofessional Education (IPE). Common IPE competencies have been identified for medicine, nursing and rehabilitation therapy. IPE is integrated throughout the core curriculum and all students have opportunities each year to participate in IPE activities through simulations, the Clinical Education Centre, or in clinical settings.
The Institute for Interprofessional Health Sciences  Education defines Interprofessional Education  as: "an educational process through which students and practitioners are provided with structured opportunities for shared learning."
Other links and resources in interprofessionalism are:
Canadian Interprofessional Health Collaborative /  Consortium pancanadien pour l'nterprofessionalisme en santé - CIHC/CPIS

Interprofessional Education for Collaborative Patient-Centred Practice - IECPCP

Most Canadian faculties of health sciences have interprofessional initiatives.
_________________________________
1. Reeves S, Zwarenstein M, Goldman J, Barr H, Freeth D, Hammick M, Koppel I. Interprofessional education: effects on professional practice and health care outcomes. Cochrane Database of Systematic Reviews 2001, Issue 1. Art. No.: CD002213. DOI: 10.1002/14651858.CD002213.pub2
3. The Romanow Report - The Final Report of The Commission on the Future of Health Care in Canada. November 2002. http://www.hc-sc.gc.ca/english/care/romanow/hcc0086.html accessed May 29, 2008