A Day in the Life of a Radiation Oncologist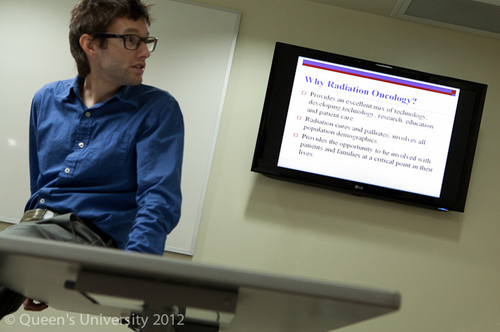 Why Radiation Oncology?
Provides an excellent mix of technology, developing technology, research, education and patient care

Radiation cures and palliates, involves all populations and demographics

Provides the opportunity to be involved with patients and families at a critical point in their lives
Radiation Oncologists are involved in patient care, administration, education and research. It is not unusual for any given day to include varying degrees of all of these areas of work.
Clinical Work
Outpatient care - cancer clinic new consults and follow-ups

Radiation treatment prescription and planning

Monitoring of patients during treatment, including phone calls with patients, care-givers and primary care providers

Inpatient - care of their own patients and providing consultations on other patients in hospital who may benefit from radiation treatment, as well as receiving patients in transfer from regional hospitals

Team meetings - interprofessional team and tumour boards
Research
can be in any of the spheres - clinical trials, education scholarship, health systems research, epidemiology
Administration
personal, departmental, university as well as involvement with provincial and national organizations
Education
Teaching undergraduate medical students

Teaching and mentoring Radiation Oncology and off-service residents

Education of patients

Education of other health professionals and members of the cancer care team
Education and training 
Following medical school Radiation Oncology training is completed during a 5 year Primary Certification Programme
1 year basic clinical

4 years radiation oncology

further subspecialization within radiation oncology
Benefits of a career in radiation oncology
Radiation oncology is a good career choice for people interested in:
technological advancements

balance of technical skills and patient care

interprofessional team

objective results

academic discipline
Drawbacks
When considering a career in Radiation Oncology the following might be of concern to you:
work is dependent on a technological infrastructure

tertiary care based

on a global scale radiation treatment is not consistently available

emotional impact of working with people with cancer
How to get more exposure to radiation oncology?
Radiation Oncology may not have been familiar to you before beginning medical school. If you are interested in learning more, an elective is a great way to learn about all of medicine and explore the possibilities of radiation oncology specifically.
The Virtual Experience in Radiation Oncology - VERO has been created by educators, medical students and radiation oncology professionals at the University of Toronto.
Please use Internet Explorer 6.02 or later (more on system requirements).