Radiation Team
Radiation Oncologists work with the rest of the oncology team - medical oncologists, nurses, social workers, surgical oncologists, urologists, gynecologist oncologists, dietitians, spiritual care providers, physio and occupational therapists, speech and language pathologists... and they also work with a specialized radiation team that plans, delivers and monitors the radiation treatment.  There are a number of roles that are unique to this team.

Start the Radiation Team Activity
All of these people can be found in a radiation therapy department, all of these people contribute to the care of people receiving radiation treatment:
Radiation Oncologist

Medical Physicist

Radiation Therapist

Dosimetrist

Nurse

Electronics Technician

Dietitian

Machinist

Physics Technician

IT Technician

Social Worker

Medical secretary

Clerk

Radiation Oncologists
Radiation Oncologists oversee the care of each cancer patient undergoing radiation treatment. They develop and prescribe each cancer patient's treatment plan. They monitor the patient's progress and adjust treatment to make sure patients get quality care throughout the treatment. They also help identify and treat any side effects of radiation therapy. They work closely with other members of the radiation oncology team.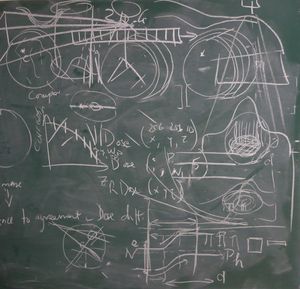 Medical Radiation Physicists
Medical Radiation Physicists work directly with the Radiation Oncologist in the treatment planning and delivery. They oversee the work of the Dosimetrist and help ensure that complex treatments are properly tailored for each patient. Medical Physicists are responsible for developing and directing quality control programs for equipment and procedures. They are responsible for making sure the equipment works properly. Medical Radiation Physicists take precise measurements of radiation beam characteristics and do other safety tests on a regular basis.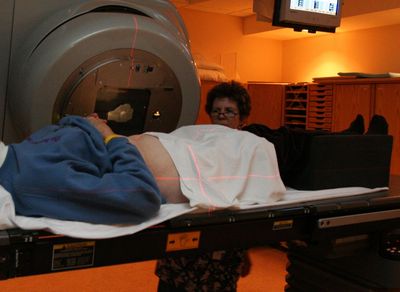 Alexandra Stephanson, 2005
Radiation Therapists
Radiation Therapists administer the daily radiation treatment prescribed by the Radiation Oncologist. They maintain daily records and regularly check the treatment machines to make sure they are working properly.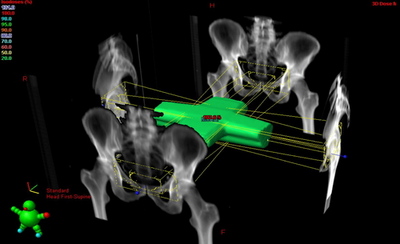 Dosimetrists
Dosimetrists carefully calculate the dose of radiation to make sure the tumor gets enough radiation. They develop a number of treatment plans that can best destroy the tumor while sparing the normal tissues. Dosimetrists work with the Radiation Oncologist and the Medical Physicist to choose the treatment plan that is just right for each patient. In Canada Dosimetry is a specialization of radiation therapy, in the USA it is an independent profession.
Radiation Oncology Nurses
Radiation Oncology Nurses work with the radiation team to care for patients during the course of treatment. They help evaluate the patient before treatment begins. They may talk to the patient about potential side effects and their management. During the course of radiation treatments patients may be evaluated weekly, or more frequently by the Nurse to assess problems and concerns.