Case 3 - The case of the poor hand-over
You may read or listen to this case:
Click to Play Audio
You are a family physician with a practice based in the downtown area of a medium sized university town.  On Friday afternoon you receive a phone call from someone who identifies themselves only as "the clerk from IMU D" telling you that one of your elderly patients will be discharged from hospital that afternoon. The clerk lets you know that the discharge summary will follow and that the patient will be in to see you next week.  You thank the student and tell them that you appreciate the heads up, as it is more than you usually get.
Over the weekend you think of this woman, who you have known now for 12 years since you moved back to town after practicing in Nunavut for 5 years after graduation.  You know that she lives alone and that her son lives in Calgary. On Monday morning, after doing your nursing home rounds, you have a few extra minutes and decide to drive by her house. You notice that there are fliers in the mailbox and decide to pop in to say hello on your way to the office.
It takes her a long time to get to the door and when she opens it you realize that she is in trouble.  This woman who you know to be bright and spry, always well dressed and smiling,  looks frail, is still in her dressing gown, smells of urine and is very confused.
On the table by the door you see a prescription and a discharge form. She was given a prescription for medications at discharge, but not a full list of what she had been on in hospital or any changes to her previous medications. Even if she had made it into your office you knew it would have been a challenge to sort out what medication she was really supposed to be taking. Plans for her anticoagulation medication were also vague. There were no plans to have it rechecked, just the "F/U fam MD" noted on the discharge.
You try to call the IMU service but are told only that the residents have all changed over as it is the beginning of the month and nobody knows this lady.  You call the emerg doc and explain the situation before you call 911 and have her taken back to the hospital.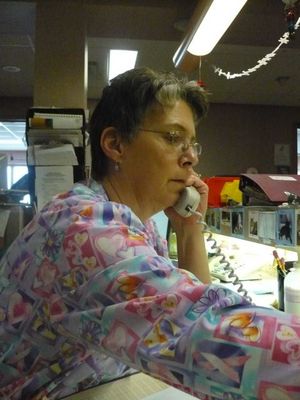 Now imagine that you are the charge nurse for the day, the regular charge nurse is at a meeting about staff turnover all day.  This is your first time being charge nurse. You get a call from emerg telling you that "another one of your patients has bounced back", the person hangs up abruptly and leaves you feeling somehow guilty for something that you don't even know about, hurt for being yelled at and maybe a bit angry for being treated this way.
Half an hour later you get another call to give you hand-over on a patient being admitted to the floor.
"78 year old woman, lives alone, history of CAD, afib, COPD and type 2 diabetes.  She had a delirium during her last admission and is back in worsened heart failure."
Down in emerg she was noted to have hyperkalemia. It appears that her potassium was replaced after vigorous diuresis in hospital and she discharged on replacement doses of potassium rather than a smaller maintenance dose. She also has a sub therapeutic INR. She is hypoglycemic which is not surprising since she was unable to get food for herself and had nobody to help.
"more than 1 in 5 patients discharged from a Canadian teaching hospital's general internal medicine service experienced an adverse outcome related to their medical care" [3]
Forster et al.[3] in Ottawa provide the following as examples of adverse events after discharge from hospital:
 Adverse events after discharge

 

 Is it preventable?

 

 Severe candidal esophagitis, presenting as food-bolus blockage, in a patient treated with corticosteroids.

 Ameliorable

 Profound hypoglycemia necessitating readmission, which developed days after discharge in a patient treated orally with hypoglycemics.

 Preventable

Acute exacerbation of congestive heart failure in a patient with severe left ventricular dysfunction for whom diltiazem was prescribed. The patient's condition was inadequately monitored after discharge.

 Preventable

 Transient ischemic attack with a normal international normalized ratio (INR) in a patient known to have atrial fibrillation whose anticoagulation therapy was inadequately monitored after discharge.

  Preventable

 Antibiotic-associated diarrhea, leading to dehydration and syncope, in a patient treated for pneumonia. The patient was readmitted to hospital and given fluids intravenously; the antibiotic therapy was stopped.

 Ameliorable

 Profound hyperkalemia (serum potassium level 7.7 mmol/L) and acute renal failure (serum creatinine level 1134 &mumol/L) in a patient treated with an angiotensin-converting-enzyme inhibitor and diuretics. The electrolyte levels were not monitored after discharge.

 Preventable

Antibiotic-associated nausea, which was self-limiting.

 Not preventable or ameliorable
"Hand-over communication relates to the process of passing patient-specific information from one caregiver to another, from one team of caregivers to the next, or from caregivers to the patient and family for the purpose of ensuring patient care continuity and safety." [1]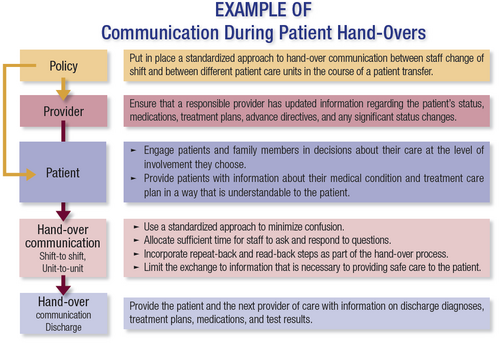 WHO Patient Safety Solutions 2007
"The hand-over (or hand-off) communication between units and between and amongst care teams might not include all the essential information, or information may be misunderstood. These gaps in communication can cause serious breakdowns in the continuity of care, inappropriate treatment, and potential harm to the patient." [1]
 Some thoughts and suggestions to improve handover:
"...precise, unambiguous, face-to-face communication was the best way to ensure effective hand-overs."[1]

"...providing opportunities for providers of care to ask and resolve questions can improve the effectiveness of hand-over communications"[1]

"Stream lining and standardizing change-of-shift reporting can enhance critical thinking, as well as minimize time spent away from the patient." [1]

Read-back is a technique where hand-over information is recorded and then the recipient has a chance to read it back to the provider who is handing over to ensure accuracy and completeness

"Collaborative (multi-disciplinary) rounds are being used effectively to improve communication and hand-over of important information relating to the patient's care." [1]
"Involving patients and families in the process of care is increasingly being recognized as an important aspect of care delivery.  The patient and family are the only constant and are thus in a position to play a critical role in ensuring continuity of care. Hospital discharge is a critical stage where communicating information to patients and families becomes vital." [1]
Like read-back for health care providers, teach-back can ensure that patients and families really understand what providers are saying.  By asking patients and family members to repeat what they have heard health care providers can  assess comprehension, develop our own skills at communicating effectively in plain language and ensure that patients and families have all of the information they want and need. [1]
Discharge from hospital is not the only dangerous time for communication other communication challenges:
verbal orders

conflict or past issues with team members

'difficult patient' label

communicating up the hierarchy

communicating across a power differential
_________________________________
1. World Health Organization. Communication During Patient Hand-overs. Patient Safety Solutions. 2007;May. Available from: www.ccforpatientsafety.org/Patient-Safety-Solutions/
3. Forster AJ, Clark HD, Menard A et al. Adverse events among medical patients after discharge from hospital. CMAJ 2004;170(30):345-9.