The Person with Cancer
People who are diagnosed with cancer have expectations of their care providers that they will be treated with sound and current knowledge, technical expertise, and professionalism.  They also have a desire to be seen not just as cases or patients, but as people.
Cancer blogs 
Blogs might be one way that we can hear what some people with cancer say about the experience of having cancer come into their lives.  This is by no means an exhaustive list, or representative of all patients, but if we listen carefully to what patients tell us, and each other, we can learn how to meet the needs of those we seek to serve.
Below is a list of blogs. You don't have to look at them all but have a look, listen to what young people with cancer have to say:
The Adventures of BaldyLocks - a blog from Vancouver, written by a 35 year old woman who was diagnosed with AML in 2006.  Broken makes visible the effect not just of cancer, but of cancer treatment.   "Cancer Dance" (below, loads with music)  tells of her bone marrow transplant.
Baldylocks speaks on 'the Stupid Cancer Show' from I'm Too Young For This! a network for people under 40 with cancer i2y.com     Baldylocks on the Stupid Cancer Show
Cancer advocacy - is a blog focused on raising awareness and money for testicular cancer.  When asked for a message to medical students this was the author's response:
1. Cancer does not equal death.  The medical community needs to do a better job of enforcing the fact that cancer does not mean death.  I was lucky to have great doctors that did this, but most people I talk to have a much different perspective.
2. Don't wait to diagnose people with cancer.  Stress early prevention to your patients early (young age) and often.  Perform self exams (testicle, breast, etc.) and get cancer screening tests (blood work, etc.)  This does not mean brochures in the waiting room, but it does mean talking to your patients and letting them know about cancer.I know you are in Canada, but in the USA we have 11.9 million cancer survivors and roughly 50% of all men will get cancer at some point in their life.  They need to know the facts.
3. Patients are "not just a number" and we want and expect a relationship with our doctors that is opened, honest and two way.  Not just the doctor telling us things, but also have them listen to our questions and help us get the answers.
Call the patient by their name.

Do not rush patients through their visit.  Take time to ensure you help them to the best of your ability and direct them to proper places (web, referrals, etc.) when needed.
4. Quality of information and Complexity of information – The medical community needs to do a better job of giving quality information and when things are complex they need to "dumb it down" so the patient can better understand what they are being told.
(used with permission)
Not just about cancer - a blog from Ottawa where the author writes "about being 40, having two kids and living metastatic breast cancer." Also includes are discussions such as "don't buy pink crap". The author includes a list of  "do's and don'ts for health care professionals" that should not need to be articulated, but does:
Do introduce yourself (I once had a doctor come into a room and start writing on my chest without introducing himself).
Don't look horrified when I tell you I have metastatic breast cancer.
Do ask my permission before turning my test/appointment/treatment into a lesson for a student.
Don't talk about me as though I am not in the room.
Don't ask me questions about my treatment that are irrelevant to the procedure being performed and/or outside your sphere of knowledge.
Don't tell me about your aunt/friend/cousin who was unsuccessfully treated for cancer.
Don't tell me that the above mentioned aunt/friend/cousin was unsuccessfully treated with one of the drugs I have told you has been part of my regimen.
Do thank me for my patience, especially if the test/treatment/procedure took twice as long as it normally would because you are still learning how to do it.
(Used with permission from the author.)
Morgancancer - a 22 episode video diary of one man';s experience of Hodgkin';s Lymphoma.
Cancer! Episode One: Supraclavicular -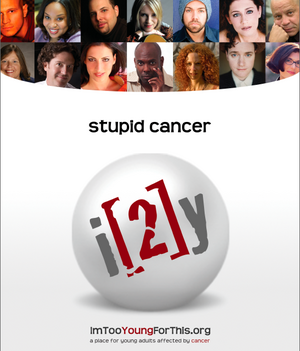 I'm too young for this! - not really a blog but a site for people under 40 with cancer