Teams R Us
Cancer is a multi system disease that cross-cuts the system-based divisions and brings together experts from many fields to provide treatment.
People with cancer have complex needs in a variety of areas. One care provider cannot possibly have the expertise meet all of these needs.  We can form a team with the specialized knowledge, training and skill to meet the diverse and changing needs of a person with cancer.
Working in teams means that information flow and communication are essential to providing cancer care.
Oncologists work in teams with members of other disciplines and as team themselves.  The most obvious evidence of the team of oncology physicians is Tumour Board, a meeting of minds around patient cases where treatment approaches and options are discussed. This is not patient management by committee but bringing everyone around the table (radiologist, pathologist, surgeon, medical oncologist, radiation oncologist, palliative care...) for the benefit of multiple perspectives and vigorous discussion.
Oncologists also work closely with other health care providers with expertise in oncology: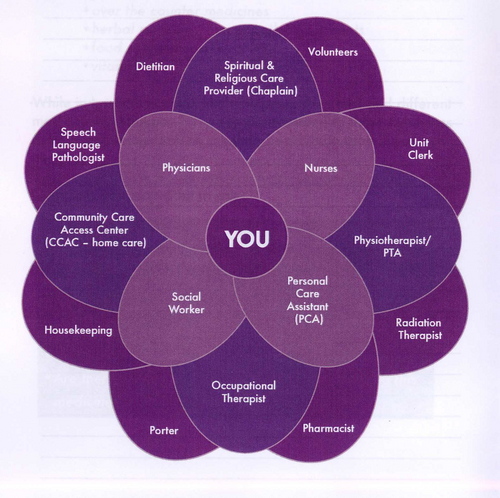 TOC Project, Office of Interprofessional Education and Practice, Queen's University
nurses - nurses with special expertise work in ambulatory clinics and treatment areas, inpatient oncology units, and homecare

palliative care teams

social workers

physio and occupational therapists

radiation therapists

medical physicists

dietitians

spiritual care providers

volunteers

dentists

health records personnel

respiratory therapists
For more on this and descriptions about the various members of the team, see the oncology team module.
Clinical Oncology Learning Quiz
This multiple choice quiz will introduce some new aspects of cancer care and review some that may be familiar to you.  It is intended to introduce new concepts and reinforce old ones - it is for your learning not to evaluate you. Try it and see what you know and what you can learn!

Start the Introduction to Clincial Oncology Activity