Professional Regulatory Bodies
In Ontario our main regulatory body is The College of Physicians and Surgeons of Ontario (CPSO) which has been delegated by the government to regulate the profession and to protect the public.
"The Regulated Health Professions Act, the legislation which governs us, defines our mandate to regulate the profession, protect the public and work collaboratively within the health-care system to ensure effective health care delivery in Ontario."[2]
"Doctors in Ontario have been granted a degree of authority for self-regulation under provincial law. The College of Physicians and Surgeons of Ontario is the body that regulates the practice of medicine to protect and serve the public interest.
This system of self-regulation is based on the premise that the College must act first and foremost in the interest of the public. All doctors in Ontario must be members of the College in order to practise medicine." [1]
Complaints to the College can come from the public or other health care professionals and can result in reprimands, licence suspension or revocation.
Letters of complaint or concern to the College from other physicians are taken very seriously. You do not need to be certain of an error or incompetence but can alert the College of your concern. Expressions of concern may result in a practice audit and be assured that no disciplinary action will be taken without due process.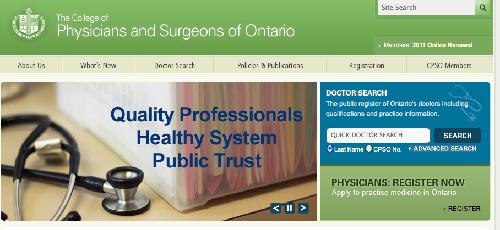 The CMPA, as you know, "is funded and operated on a not-for-profit basis for physicians, by physicians. Its membership comprises most practising physicians in Canada." It provides medical liability protection as well as legal advice and representation for physicians in an array of professional contexts.  The CMPA is a self-declared champion of medico-legal risk reduction and seeks "to protect the professional integrity of physicians".[3]
The CMPA will cover damages and awards in malpractice cases. 
_________________________________
1. College of Physicians and Surgeons of Ontario www.cpso.on.ca/aboutus/ accessed June 23, 2011
2. Quality Professionals, Healthy System Public Trust. Five Year Strategic Direction 2008 – 2010 Strategic Priorities. College of Physicians and Surgeons of Ontario. February 2008. www.cpso.on.ca/uploadedFiles/downloads/cpsodocuments/aboutus/Strategic%20Plan.pdf accessed June 23, 2011
3. www.cmpa-acpm.ca/cmpapd04/docs/about_cmpa/com_about_cmpa-e.cfm accessed August 2, 2011