Continuing Professional Development
Continuing Professional Development (CPD) is often equated with courses and formal educational activities.  However, self awareness and reflection are also essential components of professional development.  
Both the Royal College and the College of Family Physicians of Canada see CPD as ongoing learning, after the completion of formal training, that is broadly based and flexible in terms of content and delivery method.  CPD can occur independently, on line, in small groups or in large more traditional lecture based presentations.  CPD is focused on practice and can be related to new developments in clinical practice, evidenced-based care, practice management or reflection and ethical issues.
For the resident, CPD is not as relevant as you are immersed in a learning and evaluative environment.  However, one needs to develop the skills to support ongoing self directed education and professional development that will carry on throughout one's career.  CPD activities will help the reflective practice that is needed for a physician to evolve and grow over the course of a career.
This page from the PAIRO website summaries the CPD requirements of both Colleges.
Documentation of CPD is required for licensure and hospital privileging.
Key to the success of CPD are the skills of life long learning.  These skills include the ability to reflect on practice and identify your own learning needs, planning how to get those needs met, actually addressing your identifies areas of need and finally reflecting not only on what you learned but whether and how it has had an impact on your practice. This is an iterative process that will be central to your life in practice.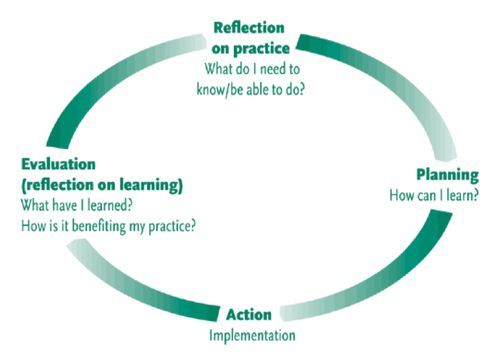 We will explore this in more depth in the CanMEDS Scholar module.