You are a Role Model
Residents are role models for junior residents and medical students. Things that can help you be a good role model as a resident include having a connection with other learners, being strong in clinical medicine and demonstrating professional behaviours.
Barriers to good role modeling include being:
Some of these are personal qualities that can be more of a challenge to over come (e.g. being quiet) but others may be related to stress or over work.
If you are like other residents you probably are looking for role models who posses: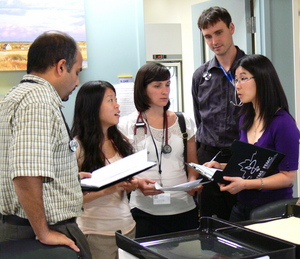 Be the kind of role model you would want - for your junior housestaff and medical students!
It is okay to be conscious about being a role model.  At times you may need to articulate what you are trying to model.  For example, when explaining to a patient that they may have a life threatening illness, you may want to rehearse or role play this scenario with other members of your team. 
Reflect on the process of trying to attain and embody the set of skills that make a good role model - by articulating your thoughts and actions you are modeling good role modeling!! [5]
_________________________________
3. Wrights S. Examining What Residents Look for in Their Role Models. Academic Medicine 1996;71:290-292.
4. Wright SM, Carrese JA. Excellence in role modelling: insight and perspectives from the pros. CMAJ2002;167(6):638-43.
5. Kenny NP, Mann KV, MacLeod H. Role Modeling in Physicians' Professional Formation: Reconsideing an Essential but Untapped Educational Strategy. Academic Medicine 2003;78:1203-1210.