Oncology Nurses
Nurses often provide the consistency in the healthcare continuum from diagnosis to death for patients with cancer. Cancer care takes place in the clinic, hospital, and community settings; requiring complex care coordination and collaboration across settings.
In this short audio clip Lee Ann Fox  RN, BScN, CON(C), CHPCN(C), Clinical Educator, Connell 10 and the Cancer
Program, Kingston General Hospital speaks about the variety of nursing roles in cancer care.
Click to Play Audio
Nurses develop in-depth knowledge in all aspects of treatment including:
prevention

screening

genetic counselling

chemotherapy administration

radiation treatment

stem cell transplantation

symptom management

supportive and palliative care

patient and family education regarding the disease process, medication and treatment side effects associated with cancer
Nurses' well developed assessment skills ensure timely and appropriate interventions. Nurses approach patients and their families in a holistic manner, ensuring psychological, social, spiritual, emotional as well as physical needs are met.
Nursing knowledge is derived from biological, social, behavioral and physical sciences. Knowledge is advanced through research findings and the integration of theoretical models applied to nursing practice.
Oncology nursing is specialty practice. Certification (CNA) confirms the acquisition of knowledge applied to clinical practice. The designation of CON(C) is one aspect of the Specialized Oncology Nurse. Continuing education and development in the clinical areas is needed for oncology nurses to grow and enhance their knowledge and practice base. Life-long learning is an element that supports excellence in practice.
Ambulatory / Cancer Clinic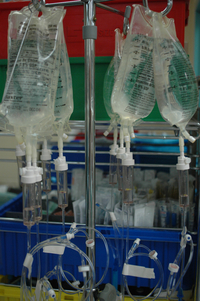 Scott Clouthier, 2005
Chemotherapy room
Nurses are responsible for administering Chemotherapy for various different disease sites.  In this role, the nurse assesses patients as well for any toxicities that they may have related to the Treatment.  All the patients that are seen are outpatients.
Primary nurse
Nurses may also act in a primary nurse role and work along with a physician.
The primary nurse is present in the clinic when the physician sees patients and has two main areas of responsibility:
patient assessment - vitals and clinical examination, medication and symptom review prior to, and during, physician consultations, treatment clinics, and follow-up clinics.

teaching  - education about chemotherapy, symptom management, and coping strategies.
In the primary nurse role, the nurse also carries a pager, so that if a patient is at home and has a question at anytime during the week, they can have access to a nurse who knows them and can answer questions and assess them if they are having any problems. 
The primary nurse also coordinates the care of the patients, making sure that appointments are followed up on, tests are arranged, etc.  Patients will see their primary nurse each time that they visit, thus ensuring continuity of care.
Treatment areas
Nurses work both in the Radiation and Systemic areas of the clinic.
Nurses also do any other nursing activity that aids in the care of the patient.  Blood transfusions, dressing changes and any other supportive therapy.
Outpatient oncology nurses work closely with:
Inpatient Units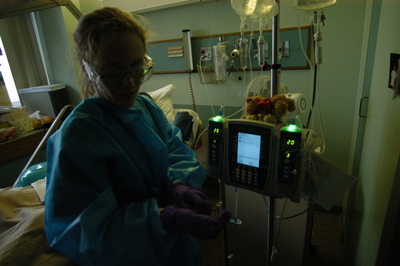 Jason Kiefer, 2005
Nurses working in inpatient oncology units provide care that includes:
the delivery of chemotherapy

stem cell transplantation

education about disease and treatment

symptom management and monitoring

supportive and palliative care
Homecare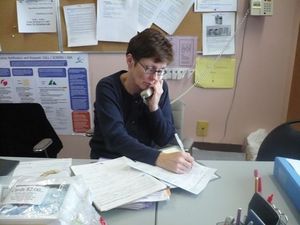 Nurses play a vital role in the transition from community to hospital to home.  The coordination of services through the Community Care Access Centres (CCAC) is often done by a nurse and the availability of nursing and other services in the home allows people to return to their families and lives as soon as possible.
Nurses in the home provide active treatment for a variety of conditions, monitoring and symptom management and palliative care.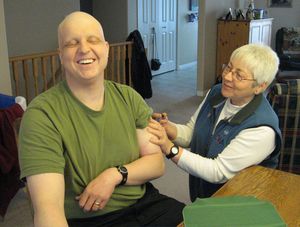 G. Haddock, 2007
Homecare services can be arranged as an inpatient or as an outpatient.
Nursing Resources
The Canadian Association of Nurses in Oncology (CANO)