Spiritual Care
Spiritual Care is concerned with the deep feelings and beliefs including a person's sense of peace, purpose, connection to others and understandings about the meaning of life that often arise with health concerns and cancer specifically.  Spiritual Care Services provides opportunities for all people to discover, affirm and claim their sources of strength and faith during times of illness, grief, death and bereavement.
"...care of the body alone cannot be effective if the mind, heart and soul are ignored."[1]
For many people, when you say spiritual, religion is the only thing that comes to mind. Spirituality is concerned with universal issues of purpose and meaning in life and is part of the human essence that seeks to rise above suffering. Religion is only one way of addressing spiritual issues.
All human beings have some kind of spirituality, for it is impossible to live without identifying and finding ways of relating to that which is of central worth and importance to us.[3]
Spiritual care is provided in an interfaith, spiritual capacity with people from all faith traditions, as well those who do not belong to any faith tradition. It is not unusual for conversations to have very little reference to organized religion.
Spiritual Care Services offers support to all patients, their families, and staff.
Scope of practice
assess spiritual needs and concerns

create a safe space

supportive counselling

companion

name and normalize feelings

witness to and acknowledge patient's story/experience

draw on/search for internal wisdom and strength of patient

assist in decision making (ethical issues, end-of-life issues, organ donation)

explore possibilities of reconciliation

offer prayer, reading of holy texts, sacraments, rituals, baptisms/dedications, sweet grass ceremonies

refer to internal and external resources
Spiritual Assessment
Serious illness can lead people to reflect on many things and spiritual care can help people with:
It is through these four domains that spiritual care providers assess a patient's spiritual health and/or suffering.
 Hope

What is the patient hoping for?

Has it changed? How?

 Community

What are the relational supports for the patient?

How has this illness affected relationships with family, work, friends?

 Faith

Does the patient believe in a higher power?

How has the disease impacted on the patient's beliefs?

 Meaning

What has given meaning to the patient's life?

Does death have any meaning?

As they face death, do they feel that their life counted for something?

Where do they want to spend their energy and time now?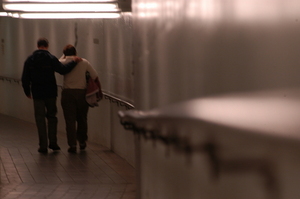 Charlie Randall, 2005
 Spiritual care providers assist and support patients and their families in identifying and communicating their spiritual needs.  They also provide opportunities for them to express their beliefs, values and emotions in  a private setting and to discover, affirm and claim their sources of strenght and faith during times of illness, grief, death and bereavement.
Referral Indicators
patient/family request

symptoms of distress

diagnosis of a chronic or terminal illness

articulation of existential concerns

questions related to end of life decisions

dying process, prior to and after death

isolation/lack of community

reconciliation issues

staff support
Spiritual care providers also can provide assistance with:
Grief and loss care

Created by Tinette user of Italian Wikipedia.

Support in planning funerals

Crisis intervention

Conflict resolution

Assistance with difficult ethical/moral decisions and dilemmas

Referrals to other members of the team

Assist with requests for referral to spiritual caregivers from specific faith traditions

Upon request; facilitate and lead: prayer, meditation and blessings, reading of Holy texts, administration of sacraments, baptism, dedication, worship, services, observances of religious holidays, memorial services
Spiritual care providers are trained and available to walk with oncology patients as they face what life has set before them.
Training
Canadian Association for Pastoral Practice and Education (CAPPE) accredited

clinical intra/interpersonal and multi faith/multi-cultural training

 
Spiritual Care Resources
Canadian Virtual Hospice, information on Spiritual Care
Spiritual and Religious Care at Queen's, Masters and Certificate programmes
Ontario Multifaith Council (OMC)
"Spirit is a natural dimension of every person. Reflecting on the ancient word Spirit, 'Spirit implies energy and power.' The word Spirituality goes further and describes an awareness of relationships with all creation, an appreciation of presence and purpose that includes a sense of meaning. Though not true generations ago, a distinction is frequently made today between spirituality and religion, the latter focusing on defined structures, rituals and doctrines. While religion and medicine were virtually inseparable for thousands of years, the advent of science created a chasm between the two. The term spirituality is a contemporary bridge that renews this relationship. Those who provide spiritual care in healthcare settings are often known as chaplains although in some settings they may be described as spiritual care providers."[2]
_________________________________
1. Professional Standards for Spiritual Care Providers. London, Ontario: Spiritual Care Providers Network 1998-2000, VanderCreek, L and Burton L, Eds. "A White Paper: Professional Chaplaincy: Its role and Importance in Healthcare." The Journal of Pastoral Care 55.1(Spring 2001):81-97. 83
2. Professional Chaplaincy: Its Role and Importance In Healthcare. 2001. Eds. Larry VandeCreek and Laurel Burton. http://williamoslerhc.on.ca/body.cfm?id=371 accessed March 10, 2008
3. Nelson, James B. and Longfellow, Sandra P. ed. Sexuality and the Sacred: Sources for Theological Reflection (Louisville, Kentucky:Westminster John Knox Press, 1994), p. 71