Oncology Physicians
There is not just one physician, there are many different types of physicians involved in cancer care ...there is a team of physicians within the oncology team - it can all be a bit confusing at first.

Start the physicians involved in cancer care Activity
Some of the physicians involved in cancer care:
medical oncologist

radiation oncologist

psycho-oncologist

palliative care

pediatrician

gynecologist oncologist

urologist

gastroenterologist

endocrinologist

internist

family physician

radiologist

pathologist

surgical oncologist

surgeon

respirologist
All physicians come in contact with, and care for, people with cancer; some specialize or focus a portion of their practice on cancer care.  All physicians will care for people with cancer during their training/residency.
GPOs
In this audio clip Dr. Anna Wilkinson talks about the role of GPOs in inpatient and outpatient care.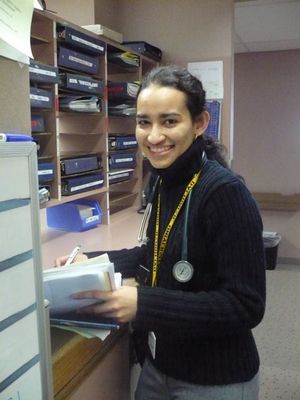 Click to Play Audio
Resident Physicians
Residents are involved in the care of people with cancer in hospital, in the clinic and in the community. Residents have completed medical school and are training as family physicians or in a specialty programme.  Some residents are training to become oncologists and may be doing advanced training or a fellowship.
Physicians and teamwork
In this short audio clip a physician talks about being a part of a team
Click to Play Audio
Physician resources
The Canadian Medical Association (CMA)
The Royal College of Physicians and Surgeons of Canada (RCPSC)
The College of Family Physicians of Canada (CFPC)
The Canadian Society of Palliative Care Physicians (CSPCP) 
Canadian Association of General Practitioners in Oncology (CAGPO)
Canadian Association of Medical Oncologists (CAMO)
Canadian Association of Radiation Oncologists (CARO)
Canadian Hematology Society (CHS)
Canadian Society for Surgical Oncology (CSSO)
Canadian Urologic Oncology Group
Society of Gynecologic Oncologists of Canada